Welcome to All About Learning, Inc.

We harness the motivational effects of Video Game Making, Renewable Energy, and Engineering education for kids using our unique LEGO® kits to teach Science, Technology, Engineering and Math (STEM) concepts and 21st century educational skills of critical thinking, problem solving, collaboration, agility and adaptability, curiosity and imagination.



Where was this stuff when we were kids?!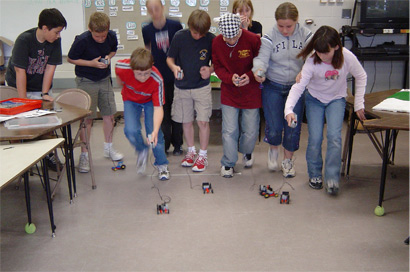 On-Site Field Trips 1-5

FRENZY classes and their Re-Engineered Cars
---
All About Learning is a leader in
providing programs
and after school
classes for kids
throughout the USA. Please
Contact Us
to set up our courses at your school.
Current Promotions:

We use building bricks and other materials to teach S.T.E.M. concepts, inspire critical thinking and problem solving. We bridge the gap between learning and fun!
Ask us about specials going on for classes booked for November for our Pullback Racecar or Renewable Enrgy-Wind Power Field Trip!

Please Contact Us to set up our courses at your school.

Please see our On-Site Field Trip page for more detail.
---
For more information on the Pullback Car Frenzy, click here.
---
All About Learning is honored to be named one of the
2009 Michigan "50 Companies to Watch".
`Michigan 50 Companies to Watch` is presented by Michigan Celebrates Small Business in association with the Edward Lowe Foundation, Michigan Economic Development Corporation, Michigan Small Business & Technology Development Center, Small Business Association of Michigan and the U.S. Small Business Administration. For more information, visit Michigan.CompaniesToWatch.org or MichiganCelebrates.biz